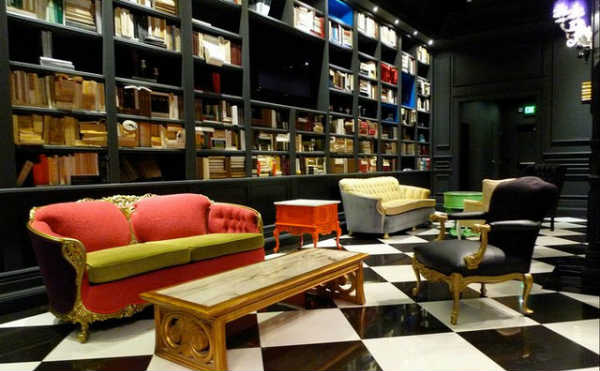 Vegas is know to offer some exotic experiences so if you're looking for an out of the ordinary trip experience in the notorious desert, then the lounge/bar experience in Las Vegas, give the Lady Silvia a try.
First thing you should know is that it can be hard to find. It's north of downtown, in the Soho Lofts building, near Heritage Park. There's no sign outside and even though the address says it's on S. Las Vegas Blvd, the actual entrance is on Hoover Ave., going towards 4th St. You'll find off-street parking at 4th and Hoover.
Inside, the decor resembles a library, complete with books on the wall. There are a few areas to sit, but the staff hates it when larger groups try to rearrange the furniture. I would say the whole place comes off as a prohibition-era speakeasy.
Music is provided nightly by a DJ with the sound leaning towards house, and they also sometimes hold special events like art and fashion shows.
This vibe extends to the bar menu. Basically, they do simple drinks like scotch on the rocks, classic martinis, Manhattans and the like. Surprisingly, the brew menu has quite a few microbrews, as well as a few of the usual suspects.
Prices are a bit on the high side, but no more than you'd find anywhere else on The Strip. You can save a bit by visiting during their daily happy hour, from 4pm-6pm, and their mid-week reverse happy hour (Tuesday through Thursday from 11pm-1am), when drinks are half-off.
Lady Silvia opens daily at 3pm and, in a rarity for Vegas, is smoke free.
* * * * * * * * * * * * * * *
The Lady Silvia
900 Las Vegas Blvd S
Las Vegas, NV 89101
* * * * * * * * * * * * * * *
[Image courtesy of The Lady Silvia]