Visiting Atlanta, Georgia, are you? Or perhaps you've lived here for a bit, but haven't found your way over to the trendy and fun neighborhood of Virginia Highlands. Well, get on that! Take it from a (almost) local who's lived in this neighborhood for over three years now. The Highlands, as locals like to call it, is teeming with nightlife options (bars and restaurants galore), and it's a bigger area than you might at first think. I'm not going to cover every place in the Highlands, but here are a few of my favorites:
Let's start at the intersection of Virginia Avenue and Highland.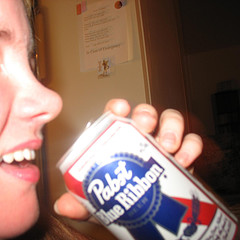 1. Moe's and Joe's and George's
I've put these two together because, well — I honestly always get them confused. They're both really casual dives. I prefer George's for the burgers and Moe's and Joe's for the wings. Yes, Moe's and Joe's have Pabst Blue Ribbon, in case you were wondering about their sign out front. (Best crappy beer ever!) The waitstaff has always been friendly and pretty quick. I come to these places to start out an evening with a cheap dinner or a drink before hitting up the town.
***On a side note, there's a tiny bar/dance floor to the left of George's. It's extremely narrow and usually packed with 21-year-olds. I've had a couple of amusing evenings there, but don't go if you're claustrophobic or are wearing really nice things.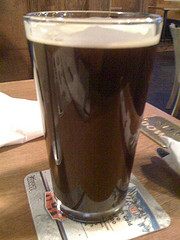 2. Taco Mac
If it's beer you're after (and I mean a HUGE selection of beer), head straight for Taco Mac. Beer snob that I am, the first time someone told me this place has good beer, I was like "a place called Taco Mac?" I know, I know, the name doesn't suggest it, but the beer list here is large, varied and very international. I'd venture to say the wings here are even better than they are at Moe's and Joe's, though a touch pricier.  If you're a serious beer connoisseur, sign up for the Beer University card. The more unique beers you enjoy, the more points and prizes you rack up. I'm not sure how they got around the Blue Laws here in Georgia with this one…maybe by passing it off as an academic pursuit.
3. Highland Tap
Across the street from Moe's and Joe's are a handful of fine establishments. One of them is Highland Tap, which serves up one of Atlanta's very best steaks (seriously!) There's a typical bar scene, too, though I haven't been there too much. It's always packed though. All the food I've had here has been good.
4. Fontaine's
I have been to Fontaine's many, many times. Their lobster bisque is the best you'll ever have, their seared Ahi Tuna is out of this world – come to think of it, I really do like all of the food here. They're especially known for their oysters, so knock yourself out if that's your thing. Indoor and outdoor seating, good Bloody Mary's and a non-smoking section keep me coming back here. And the calamari – probably the best I've had, anywhere.
5. Noche
Funny story about this place. I asked my Icelandic friend if he wanted to go to a tapas bar in the Highlands. HECK YES he said. I was confused about his giddy excitement but passed it off as an Icelandic thing.  So we get there, order a beer and he suddenly says, "so…where are all the girls?" It took me a minute, and then I realized that he thought I had said *topless* bar.  Oh well.  In any case…I love, love, love Noche. It may not be as fancy schmancy as Pura Vida, on the other side of the Highlands, but this place has 50% off tapas 4 nights a week from 5-6:30! You just can't beat that. Drinks are great here, and it's got a very lively social scene every night of the week.
6 . Paolo's Gelato
Don't leave this area until you try Paolo's Gelato…it's amazing. And authentic, too, in my opinion. I've recently sampled the basil flavor.  Che buono! There's a frozen yogurt/gelato shop a little further down on the North part of Highland, but the gelato simply doesn't compare. The shop is super cute and makes my eyes light up whenever I walk inside, too.  They have dog gelato! My pooch highly recommends it.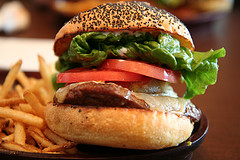 7.  Diesel
Heading south on Highland, you'll come across a place called Diesel after a short three minute walk. It's a restaurant/bar that has also greatly improved its menu, and it offers a full bar and decent beer selection as well. They recently added a nice list of craft beers to the menu, which I adore. Have a quick drink there and continue south on Highland.
Looking for some live music? Don't miss Blind Willie's on Highland! It's a blues band bar that features live music almost every night of the week, including a fantastic group called Yacht Rock I recently discovered that plays 70s hits on Monday and Thursday nights. So fun!
9. Pozole
I often start or end my evenings in the Highlands at Pozole.  They have *fabulous* margaritas. DO NOT leave without trying either the jalapeno margarita (my absolute fav) or the watermelon margarita. Both are very unique, memorable and utterly delicious.
To quote Ron Burgundy in Anchorman, "Scotch Scotch, scotchety scotch…" Yes. If you love cigars and Scotch, you could spend many a giddy hour here. There serve up girlier drinks like mojitos and martinis, too, though the wines are not all that. The air quality is actually much better than you'd expect, as they have a really good  air filtration system in there.
Photos by TheDeliciousLife, Chichacha, Mostly Muppet, Orin Zebest